So I've gathered up all the confirmed news around the world wide web and thought I would compile a "guide" of sorts for the upcoming Playstation 4. Everything from how Playstation Plus will work, games, hardware and more. So here you go. Hope this is helpful!
The release date:
November 15 - US
November 29 - EU
February 22 - JP
The cost:
$399 in the US, €399 in Europe, £349 in the UK and $549 in Australia.
The controller:
Each console will come with one Dualshock 4 controller. The newly designed controller features a clickable touch pad, share button for uploading gameplay, a glowing bar at the back to interact with the camera, better triggers and more responsive buttons, a mini-speaker and a headphone jack. It is confirmed that a headset will be packaged with the PS4.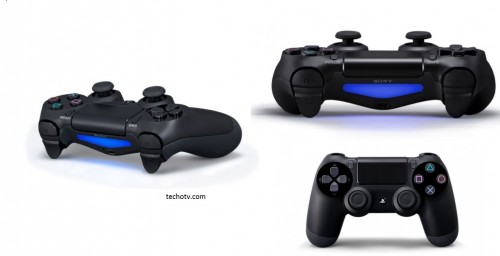 The Specs:
Single-chip custom processor
CPU: low power x86-64 AMD "Jaguar", 8 cores
GPU: 1.84 TFLOPS, AMD next-generation Radeon based graphics engine
GDDR5 8GB
Hard drive space:
500GB. However users can swap out the storage for a hard drive of any size.
Backwards Compatible:
No. The PS3 was developed on Cell architecture, while the PS4 uses a more conventional design, making backwards compatibility virtually impossible. However, Sony will be bringing cloud streamed PS3 gaming to PS4 next year in the US with Gaikai – how this will be priced is yet to be revealed.
Carry over your PSN account to the PS4:
You will be able to carry over your PSN profile over to the PS4, including your hard-earned trophies and avatar.
Region-free:
All PS4's will be region free.
Friends List:
You will be able to have up to 2000 friends on your friends list as opposed to PS3's 100.
User Interface:
The user interface will be a dynamic menu where you can customize the layout. More information to come...
Cross game chat:
The PS4 will have cross game chat. It was originally to be a PS Plus exclusive feature but Sony has now announced that all users with a subscription or without will be able to take advantage on cross game chat.
Blu-Ray:
Of course, there will be blu-ray. The bonus is that bluray discs will be 6x speed so that games will be read faster off the disc than on PS3 meaning less loading and better gaming.
HDTV/SDTV:
The PS4 will only play on HDTV's using HDMI cables. No support for SDTV.
Game streaming:
You'll be able to livestream games to Ustream, as well as upload previous gameplay of the last 5 minutes to Facebook. Interestingly, Sony also detailed a feature where your friends would be able to take over your game to help you out in certain scenarios (and with your consent).
Fee for online multiplayer:
Yes. You will have to be a member of Playstation Plus in order to play online. Although, social features like having PSN friends, streaming services like Netflix and most Free-to-Play games like PlanetSide 2 will not require you to pay for PS Plus.
More information on PS Plus:
Sony has promised that there will be at least one free game a month on Playstation Plus. The first free game will be a Playstation Plus version of the upcoming racer DriveClub. It will be a stripped down version of the full game. Soon after, three more games will be released: Don't Starve, Outlast and The Secret Ponchos.
PS4 and PS VITA:
All PS4 games, except those that use the PlayStation Camera, will support remote play, meaning you can stream PS4 titles to your Vita wherever you are, as long as you have an internet connection.
DRM:
The PlayStation 4 can play games offline without having to be online. Sony will not have any mandatory DRM for used games. You can buy, play, trade used games on the PlayStation 4 just as usual. No additional registration fees, pay-walls or internet registration required. If you so choose, you can play games from disc, download them from the digital store or remote load them. Sony doesn't mandate any method over the other for multi-format titles. Just for extra clarification, the PlayStation 4 does not and will not require a constant always-on internet connection.
Downloading and updates:
If the console is connected to the internet, it will automatically update all games and the system FW. It supports background downloading. And, you'll be able to play PSN game as they download. You will not need a PS Plus subscription for any of this.
Extra Information:
- Sony has revealed that 140 games are currently in development, with 100 of them being released within the first year - and 40 of them being Playstation Exclusives.
- Sony Pictures Entertainment is producing content for the PS4, Music Unlimited, Movies Unlimited Redbox and Flixster will be available at launch, while other PS3 services like Netflix are almost definitely set to be there at launch.
- Playstation Home has not been announced as of yet.
- You will not be able to use the DualShock 3 with the Playstation 4. However, the PS4 will support Playstation Move.
Sony have released a PS4 FAQ on their official website which you can check out here: http://us.playstation.com/ps4/features/ps4-faq/
Sources:
playstationlifestyle.net and cinemablend.com
Last edited: